The EUSEW Policy Conference is the biggest conference dedicated to renewables and efficient energy use in Europe. The 17th edition of the Policy Conference took place in a hybrid format in Brussels and online on 20-22 June 2023 under the theme of 'Accelerating the clean energy transition – towards lower bills and greater skills'.
The EUSEW Policy Conference 2023 took place in a hybrid format online and in Brussels (at the European Commission's Charlemagne building and the Martin's Brussels EU Hotel) on 20-22 June.
Onsite attendance allowed participants to benefit fully from the networking possibilities and presentations of companies and organisations at the Energy Fair.
Public authorities, energy agencies, industry associations, businesses, civil society organisations and the media are all invited to take part in the conference. Past speakers and participants have come from city councils and the European institutions, private companies and research organisations, citizen groups and NGOs.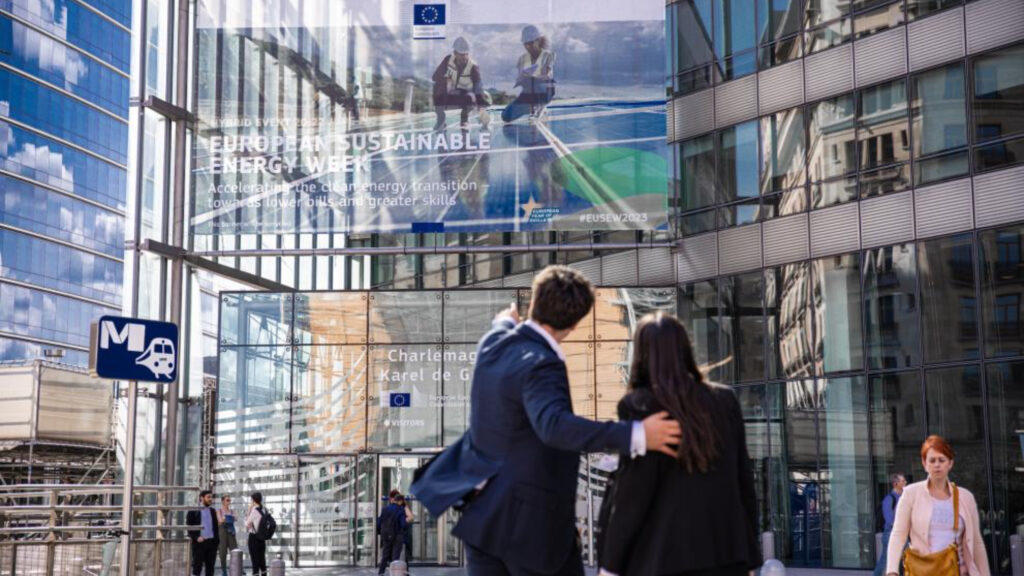 Martin's Hotel, room Quartz, 1st floor on the 20th of June 2023 from 14:30 – 16:00 CEST
The session helps individuals and organisations prepare for the energy transition by providing an overview of the necessary skills and offering a framework for education and training to operationalise EU energy policy through new competencies and job types. Four EU-funded projects will provide their insights to familiarise participants with current industry trends and government policies related to the energy transition and the resulting change in job demands and skills requirements while identifying specific areas within the energy sector where new jobs and skills will be needed in the near future.
The session will provide participants with an understanding of the types of technical and non-technical skills required for these new careers – such as project management and renewable energy analytics – and showcase new job opportunities and relevant upskilling and training programmes that align with these new career paths.
A special focus will be given to the use of innovative tools, such as serious games and augmented reality, as a way to upskill the workforce, and adapt to the digitalisation of society. A practical workshop on an upskilling journey and links to a repository of relevant supporting resources will conclude the session.
Moderator
Robert Childhood, CINEA
Speakers
Hélène Chraye, DGRTD (key note)
Ilaria Bientinesi, Azzereco
Brian Azzopardi, FIR
Fabiano Pallonetto, Maynooth University
Manuela Flachi, Magellan Circle
1 – Could you please provide an introduction to the project you are coordinating and elaborate on how it supports the transition by upskilling the workforce in response to the changing energy landscape?
The SEANERGY Project (Sustainability EducationAl programme for greeNER fuels and enerGY on ports (SEANERGY) is a coordinated support action CSA funded by the Horizon Europe programme. It aims to address the challenges associated with the transition to clean energy hubs in EU ports. One of the main outcomes is to elaborate a Master Plan, a sort of guideline that will help stakeholders in the port industry, to assess, plan and execute the necessary activities for transforming ports into clean energy hubs.
The Master Plan has the ambition to be the main reference for all port stakeholders when preparing their environmental and energy plans. In this context, besides creating awareness, it serves as a basis for activities such as training and reskilling in the green port transitioning, creating a space of dialogue and teaching among stakeholders from the industry and academia. Such exchanges will boost the development and integration of greener technologies, with more prepared professionals that will be able to manage and implement them promptly, securely, and efficiently.
2 – What are the main barriers or challenges that you have identified with your stakeholder engagement activities in terms of upskilling or reskilling workers and students, and how have you been addressing or mitigating these obstacles within your projects?
The project started recently, in October 2022 and will last 30 months. However, clear barriers and challenges have been already identified and can be summarised in four main elements:
Limited Awareness and Understanding probably due to a lack of knowledge of the benefits for transitioning to a clean energy in ports;
Different Priorities and Interests from the different sectors such as port authorities, industry players, educational institutions, and government bodies;
Reduced Resource represented by limited funding, poor infrastructure, and qualified trainers;
Institutional and Regulatory framework not yet fully aligned with the goals of the energy transition in ports.
To address these barriers and challenges, the SEANERGY project employs the following strategies:
SEANERGY Master Plan that provides stakeholders the same understanding and alignment, containing guidelines and best practices;
Ad hoc training, workshops, and educational programmes designed;
Creation of new communication channels such as digital interactive platforms to ensure collaboration among stakeholders;
Open spaces for dialogue for incentivising cooperation agreements when adopting innovative solutions.
3 – Could you discuss the presence of gender issues within green jobs and the measures your project is implementing to promote gender equity in the green economy?
Gender issues and the promotion of gender equity in the green economy are important considerations for the SEANERGY project that see it crucial to address gender disparities in the workforce. Some potential measures that SEANERGY could implement to promote gender equity are:
Gender Mainstreaming: SEANERGY can adopt a gender mainstreaming approach, integrating gender considerations into all project activities and decision-making processes.
Gender-Disaggregated Data Collection: SEANERGY can collect gender-disaggregated data to better understand the representation and participation of women in the port industry and the green economy. This data can help identify gender gaps and tailor interventions and strategies accordingly.
Targeted Outreach and Recruitment: encouraging women's participation in training and employment opportunities in the green economy.
Gender-Sensitive Training Programs: SEANERGY can develop training programs that are gender-sensitive, taking into account the specific needs and challenges faced by women in the workforce. This can include addressing biases, providing mentorship and support systems, and ensuring a safe and inclusive learning environment.
4 – In your project, how do you identify and prioritize the specific green skills that are most relevant for the workforce in the context of the energy transition? Are there any particular methodologies or frameworks you utilize for this purpose?
In SEANERGY, the identification and prioritization of specific green skills can be approached using commonly employed methodologies and frameworks, not specific to the project as such.
Skills Needs Assessment: SEANERGY will conduct a comprehensive skill needs assessment to identify the current and future skills required for the energy transition in the port industry. For instance, the regional and local workshops across Europe have been started and this is the main objective, analysing the existing workforce, mapping the skills gaps and forecasting the skills needed in the future.
Industry Engagement and Stakeholder Consultation: SEANERGY can engage with industry stakeholders, including port authorities, companies, trade unions, and professional associations, to gather insights and perspectives on the specific green skills required for the energy transition. This can involve surveys, interviews, focus groups, and workshops to ensure a broad representation of stakeholders' views and expertise.
Best Practices: SEANERGY can study best practices and case studies from similar initiatives or projects in other regions or sectors that have successfully addressed the skills requirements of the energy transition. Analysing these examples can provide insights into effective approaches.
Such measures focus on developing the skills which are in line with the transformation of ports into clean energy hubs, matching the demand will help in prioritizing the relevant green skills.
5 – Collaboration between various stakeholders is crucial for effective upskilling initiatives. How does your project foster collaboration and partnerships among educational institutions, industry stakeholders, and government bodies to ensure a coordinated approach towards upskilling the workforce for the green economy?
SEANERGY fosters collaboration and partnerships among educational institutions, industry stakeholders, and government bodies to ensure a coordinated approach towards upskilling the workforce for the green economy in several ways:
Establishing a Collaborative Consortium: SEANERGY forms a consortium composed of 12 partners across Europe including educational institutions, industry stakeholders, and port authorities. This consortium serves as a platform for collaboration, knowledge exchange, and joint decision-making. By bringing together experts in the field, SEANERGY creates a unified network to drive the upskilling initiatives.
Joint Decision-Making approach: SEANERGY encourages joint planning and decision-making processes. Through collaborative workshops and working groups, stakeholders can collectively identify upskilling priorities, set goals, develop strategies, and allocate resources. This participatory approach ensures that the initiatives align with the needs and aspirations of all stakeholders.
Engaging Educational Institutions: By partnering with universities, vocational training centres, and research institutions, SEANERGY ensures that the upskilling programs are designed to meet the industry's needs and are aligned with educational curricula. This collaboration helps bridge the gap between academic knowledge and practical skills required in the green economy.
Policy Advocacy: SEANERGY engages with government bodies and policymakers to advocate for policies and regulations that support upskilling and reskilling efforts. By highlighting the importance of the green economy and the need for a skilled workforce, SEANERGY can influence policy decisions and promote an enabling environment for upskilling initiatives.
This collective effort maximizes the impact of upskilling initiatives and contributes to the successful transition to clean energy hubs in EU ports.
6 – With advancements in technology and the increasing demand for specialized skills, how do you envision the role of lifelong learning and continuous education in preparing individuals for the evolving job market in the energy transition?
SEANERGY recognizes the importance of lifelong learning and continuous education in preparing individuals for the evolving job market in the energy transition. As advancements in technology and the green economy reshape industries, the need for individuals to acquire new skills and adapt to changing job requirements becomes crucial. SEANERGY envisions the role of lifelong learning and continuous education in the following ways:
Reskilling: SEANERGY promotes lifelong learning by offering training programs, and courses that focus on the specific skills needed in the energy transition. This allows individuals to reskill and stay relevant in the changing job market.
Bridging the Skills Gap: By providing ongoing learning opportunities, SEANERGY ensures that individuals have access to the knowledge and skills necessary to thrive in the evolving job market.
Technology and Industry Updates: SEANERGY facilitates continuous education by organizing seminars, webinars, and conferences where experts share insights and knowledge about emerging technologies, best practices, and market developments. This enables individuals to stay informed and adapt their skills accordingly.
Collaboration and Networking: SEANERGY facilitates peer-to-peer learning, networking events, and knowledge-sharing platforms where individuals can connect with like-minded professionals, share experiences, and collaborate on innovative projects. This collaborative learning environment enhances individual growth and promotes collective progress in the energy transition.
By emphasizing lifelong learning and continuous education, SEANERGY ensures that individuals are equipped with the necessary skills, knowledge, and mindset to thrive in the evolving job market in the energy transition.